Forventet læsetid: 3 minutter
Når du markedsfører din virksomhed, bør dit første mål være at fange forbipasserendes opmærksomhed. Og når du gerne vil bemærkes på lang afstand, er bannere en af de mest direkte og effektive løsninger.
Heldigvis er bannere nemmere at lave, end du måske tror … det kræver bare lidt planlægning, og at du kender til et par tricks. Her kan du læse om, hvordan man laver et banner, der tiltrækker opmærksomhed, så du bliver set.
Bestem, hvor dit banner skal sidde.
Sørg for, at dit budskab er enkelt og målrettet.
Lav et hierarki i de visuelle elementer og fortællingen.
Vælg en letlæselig skrifttype.
Brug farver til at skabe kontrast.
Vælg en designskabelon.
1. Bestem, hvor dit banner skal sidde.
Den planlagte placering af dit banner vil påvirke dit skilts størrelse, farve, budskab og materiale. Skal dit banner hænges op over døren til din butik, til et sportsarrangement, på et grøntmarked eller i et butiksvindue? Et dobbeltsidet banner kan være perfekt, hvis du vil kommunikere et budskab til kunder både i *og* udenfor din butik, imens et roll-up-banner er perfekt til at tage med til messer og markeder.
Afhængigt af placeringen bør du overveje, hvad dit publikum laver, imens de læser dit banner – står de stille, går de, kører de, eller sidder de i et tog – og hvor langt væk de er. Det påvirker ting som bannerets størrelse, om det skal være vandret eller lodret, den skrifttype du bruger, og hvor mange ord du har at lege med. Du bør også overveje baggrunden bag banneret (grønne træer, røde mursten, hvide vægge?). Målet er at få dit banner til at skille sig ud mod baggrunden. Det handler alt sammen om at fange kundernes opmærksomhed.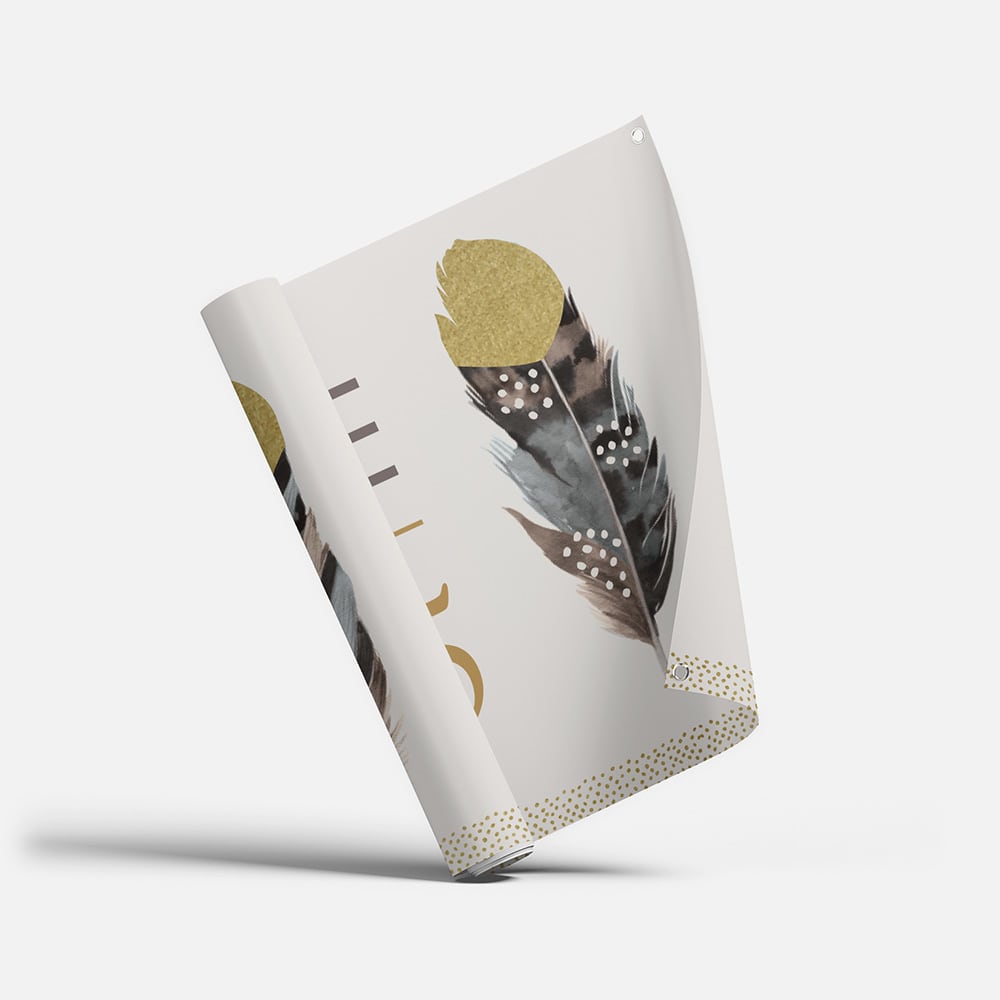 Placeringen af dit banner vil også afgøre, hvilket materiale du skal bruge. Udendørsbannere i f.eks. vinyl og mesh/net kan bruges både indendørs og udendørs, men indendørsbannere er ikke så velegnede til at blive udsat for elementerne.
2. Sørg for, at dit budskab er enkelt og målrettet.
Hvert enkelt banner bør have et hovedformål … så bestem dig for den ene ting, du vil have folk til at gøre, når de ser dit banner. Det kunne f.eks. være, at de skal træde indenfor i din butik, bede om et tilbud eller besøge din hjemmeside – uanset hvad målet er med dit banner, skal du sørge for, at din opfordring til handling er klar og tydelig.
Og husk, at færre ord er bedre end flere. De fleste vil se dit banner på afstand (og måske kun i få sekunder, hvis de er i bevægelse), så sørg for, at de hurtigt kan fange dit budskab. Vælg korte, direkte, letlæselige budskaber, og undgå unødvendige ord – hvis du kan skære et ord fra, uden at dit budskab ændres, så gør det.
3. Lav et hierarki i de visuelle elementer og fortællingen.
Rækkefølgen af dine budskaber og din information – dvs. hierarkiet – har stor indflydelse på, hvor effektivt dit banner er. Fremhæv de vigtigste oplysninger, og sørg for, at dit hovedbudskab skiller sig ud – det kunne være med et forstørret billede eller en fremhævet overskrift.
Arranger de resterende elementer (f.eks. sekundær information eller flere detaljer) omkring dette primære fokuspunkt med mindre skrifttyper.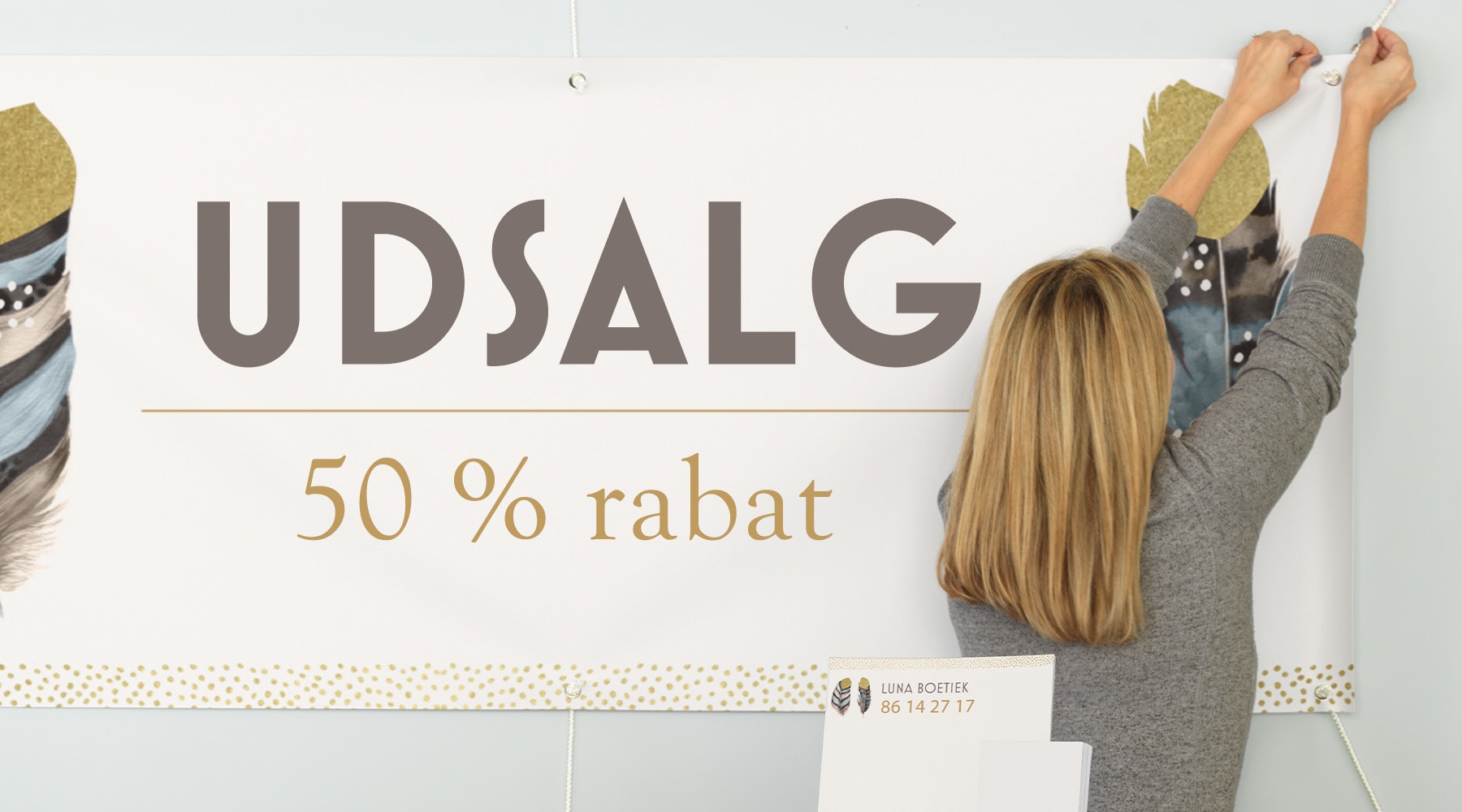 Hvis du bruger billeder på dit banner, så sørg for, at de er i høj opløsning og god kvalitet. De skal være skarpe og tydelige i stor størrelse, så brug altid originale, ikke-komprimerede filer for at få det bedste resultat.
4. Vælg en letlæselig skrifttype.
Hvis du går efter klassiske, tydelige skrifttyper som Helvetica, Century Gothic og Verdana, får dit banner et mere professionelt look, og samtidig er det nemt at læse. Det kan være fristende, men undgå sjove eller usædvanlige skrifttyper – dine kunder vil have sværere ved at læse, hvad du har at sige.
Dit banner vil typisk blive set på længere afstand, så tænk stort i forhold til skriftstørrelsen. Lad i øvrigt være med at blande for mange skriftstørrelser … hold dig til maks. tre for at undgå, at dit design ser kaotisk ud.
5. Brug farver til at skabe kontrast.
Generelt er det en god idé at tilpasse banneret efter dit brand og bruge de samme farver, som du bruger andre steder i din markedsføring, men det er vigtigt at være særligt opmærksom på, hvordan du kombinerer dem. Et godt tip er, at der skal være en stor kontrast mellem bogstaverne og baggrunden, så gå efter en mørk skrifttype på en lys baggrund eller omvendt.
Prøv på samme måde at undgå pastelfarver, som har det med at falde i med baggrunden, og vælg stærkere farver i stedet. Hvis dine brandfarver er dæmpede og lyse, så skru op for farven, men bliv i samme nuance, for at sikre en højere kontrast på banneret.
6. Vælg en designskabelon.
Nu hvor du ved, hvordan man laver et banner, der skiller sig ud, er det tid til at samle puslespillet og lave dit endelige design. Det gør du nemmest ved at starte med en skabelon, der kan tilpasses – tilføj derefter dit budskab, vælg din skrifttype, upload dit logo, og juster layoutet, indtil det passer perfekt til din virksomhed.
Hvis du allerede har dit eget færdige bannerdesign, kan du også nemt uploade det til et banner efter eget valg. Det er vores erfaring, at Adobe Photoshop- og Illustrator-filer er de bedste formater at bruge, når du skal uploade dit design.
Vil du gerne have en professionel til at tage sig af designarbejdet? Find en designer, der kan gøre din bannervision til virkelighed, hos 99designs fra Vista.